Global meat consumption is down for the first time in nine years, dropping 3 percent from last year. And this is a real opportunity to make the alternative as appealing to as many people as possible.
That's a big deal for an industry that's relied on steady growth, especially since industrialized farming became widespread. In the U.S., per capita meat consumption isn't expected to return to pre-pandemic levels for another five years. This change in eating habits is due to a number of things, from the U.S. meat shortage following coronavirus outbreaks in plants due to a disregard for employee safety to China's growing distrust in the meat industry and even practical reasons: with restaurants shut down, people are eating less meat.
Right now, we have an opportunity to continue this momentum and not only maintain the declined appetite for meat, but also further drive change in consumption habits. In fact, I believe that meat will continue to become a smaller and smaller part of our diets. Better, tastier alternatives will make their way into supermarkets and restaurants, at a lower price, giving people fewer and fewer reasons to eat meat. Until one day, ordering a beef burger is a faux pas. I will say this again and again as many times as I need to: the planet cannot and will not sustain the continued growth of industrial animal agriculture. Disproportionate amounts of resources are already dedicated to breeding, raising, and taking the lives of others to make cheap meat.
There is an urgent need to turn away from modes of production that science has proven is destroying the planet. The warning signs are there. China's overburdened swine industry could be the start of yet another pandemic. Experts have even warned of the potential for this in the U.S. Forest fires, heat waves, and other natural disasters appear to be getting worse and worse every year, affecting the disenfranchised first.
This is not just about getting new vegan products on shelves. This is about pushing for very real change within the food industry. To do that, we need to gain the consumer's trust and attention.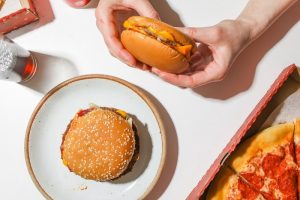 U.S plant-based meat sales increased 265 percent earlier this year. Accounting for the fact that many of those purchases may have been from COVID-19 panic-buying, we should also do all that we can to keep the customers that purchased plant-based meat for the first time. And we also have the opportunity to bring in those customers who are now open to eating less meat in general.
There's an easy way to do that. Taste and texture always come first. If it doesn't look and taste familiar, we're going to have a harder time convincing meat-lovers to even consider buying plant-based. We need to show that, yes, you're not eating beef, but that plant-based burger is pretty damn close. And it's just going to keep on getting better. We're even to the point where companies can grow whey and casein, proteins critical to dairy's taste, texture, and flavor, through fermentation. We cannot stop striving for perfection.
We also want to ensure that our messaging is clear: plant-based is better for the planet, our health and saves the lives of animals. We can't shy away from the facts. Let customers know that when they are buying plant-based meat, they are making a more environmentally conscious choice. In the case of multi-billion dollar meat brands that are launching plant-based ranges, as we are seeing more often now, an extra step is needed.
While these brands launch plant protein-based burgers and meatballs, it brings up the question of whether they are planning to shut down any meat plants. After all, the problem is that the current rate of industrial animal agriculture production is unsustainable. It cannot continue to grow — it needs to become smaller. I for one hope to see that meat falling out of favor and the continued rise of plant-based products will encourage executives to increasingly shift gears to this new, more sustainable food system.
Finally, research shows that millennials and Generation Z are set to overtake the Baby Boomer generation in terms of spending power in the coming years. They, Gen Zers in particular, also prefer to shop from ethical brands. It's on plant-based brands to take advantage of these insights and the decrease in meat consumption by making their message clearer and products more available.