by Björn Witte, CEO of Blue Horizon
At the end of last year, COP26 brought the world's attention to sustainability as policymakers, activists and business leaders gathered in Glasgow for the pivotal climate event amid calls for urgent action. According to Dealroom data released that November, impact startups had raised approximately $44bn in the year-long leadup to COP which was far in excess of the $18bn total for the whole of 2020. Opportunities to deliver positive returns for investors and the planet have increased exponentially with impact startups now valued at some $1.8tn globally. Despite a significant acceleration in the growth of the impact space, Dealroom found by the end of 2021, however, funding was not only eclipsed in real terms but also outpaced by the growth in funding raised by impact-agnostic businesses. 
Equally, while food and agriculture opportunities are increasingly sought after, both Dealroom and PitchBook analysis last year found disproportionate investment into sustainable food, energy and transport relative to the contributions of each sector to global greenhouse gas emissions. To take the most high profile example of the imbalance, Tesla drives the media conversation with every quarterly report, most recently Q4 2021 which sent the stock up 13.5% in one day's trading. We should all cheer Tesla for defying sceptics, not only for the delivery of a record 936,000 cars in 2021, but also for making electric vehicles mainstream and forcing the hand of incumbent automakers.
While clean energy and transportation are vital in the fight against global warming, the second biggest piece of the puzzle requires many more champions like Tesla to galvanize action for the transition to a new Sustainable Food System too. Blue Horizon has been finding the next "sustainable food Teslas" since our first successful seed and early-stage investments in plant-based protein alternatives more than half a decade ago.
We have gone on to raise over $850 million to-date and invest in more than 60 sustainable food businesses at the intersection of biology, agriculture and technology. Blue Horizon has a well-known track record as an impact investor in alternative proteins, playing a significant role in shaping the fast-growing market of opportunities in the space where we were a first mover. Today, we invest across the food system with a portfolio of flagship investments that now includes sustainable packaging, agricultural businesses reducing pesticide use and emissions as well as a range of seed investments that will shape the future of food.
Our mission remains true to our roots and, alongside investments for a positive impact for human and animal health, planetary health is a cornerstone of our approach that has seen Blue Horizon become a global leader in impact investing and food system sustainability, which is critical in the fight against climate change but innovation has been seriously underfunded. Food system emissions account for 24% of the global total, more than all of transport combined at 18%, and second only to the energy sector's 34% share.
Energy and transportation have long been the focus of public and private investments in cleaner technologies, renewables and efficient infrastructure. But Wall Street's mantra of 'buy a Tesla, save the world' solves only part of the problem with climate change as we clearly need to focus on Food as well (Fig 1).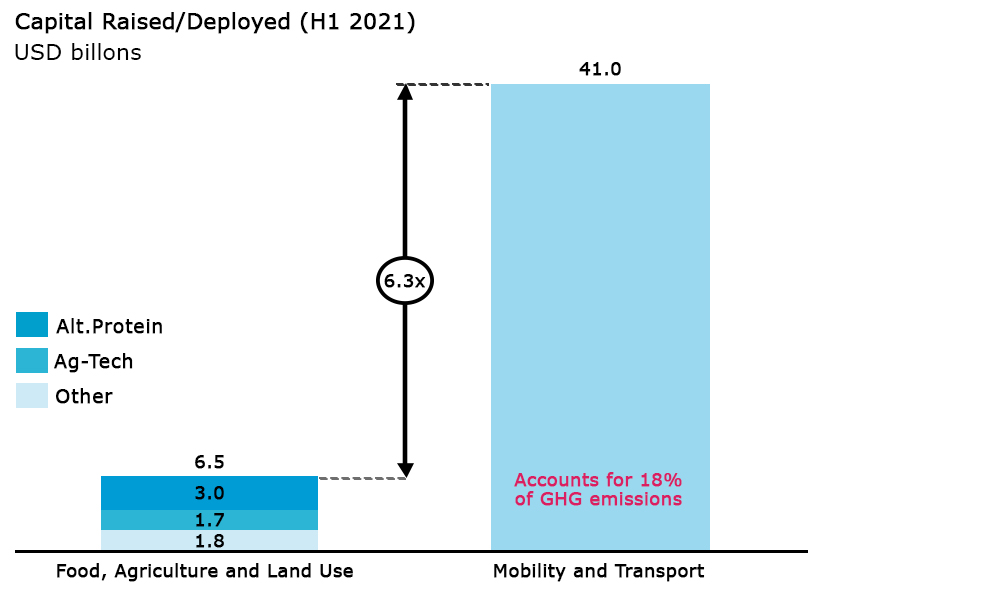 Source: PwC State of Climate Tech 2021 Report 
*Sustainable Food System capital refers to capital deployed in H1 2021 across Food, Agriculture and Land Use.
Blue Horizon has been at the forefront of innovation, backing an undercapitalised market of startups and delivering a higher Double Positive: outstanding returns for our investors and the planet. Fortunately, there is no shortage of dry powder with some $73bn in impact funds alone, according to Pitchbook, as the wider ESG asset class is set to exceed $50tn by . This means there will be more than enough funding available to close the gap between capital deployed into mobility and transport ($41bn) versus innovations in sustainable food systems ($6.5bn).  
Blue Horizon is committed on a mission to accelerate the transition to a new Sustainable Food System. Our call to action is for professional investors not only to seek out returns in clean energy and transportation, but also source high-growth opportunities in the space of future of food that could have an even bigger positive impact for the planet as well as impressive IRR.
The second and third blogs of this series turn to our impact framework's ambition for human and animal health, where alternative protein innovators remain an important part of our portfolio in a high growth market.