Dear supermarkets: hiding plant-based meat away from the majority of shoppers — who buy meat, milk, eggs, and fish — is no longer acceptable. These products are destroying the planet and our health and we need to do all that we can to ensure that they become obsolete. If that's not motivation enough: staging plant-based meat in the meat aisle will make you more money.
Placement, a tactic that supermarkets are experts at, is key to accelerating more sustainable (and more animal-friendly) options. Retailers must put plant-based meat where it belongs: in the meat aisle, right next to the animal-based burgers, sausages, mince, and one day, even steak that these options will inevitably replace.
Kroger, the largest supermarket in the U.S., and the Plant Based Foods Association recently discovered something interesting. From late December to early this year, the two staged plant-based meat in its very own set in the meat departments of 60 stores in Colorado, Illinois, and Indiana.
Through this test, they found that plant-based meat sales increased 23 percent. In Indiana and Illinois, they found that sales were even higher at 32 percent. The location of the test is a glimpse into the future of how supermarkets stage plant-based meat. These stores are in America's Heartland, where one would still expect the typical family meal to consist of meat and two vegetables.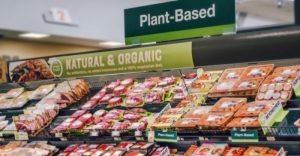 But instead of finding vegan-averse consumers, Kroger reached people who would have never swung by the meat-free freezer to pick up some veggie burgers.
Kroger is not the first to try this tactic. In supermarkets across the country, you'll find Beyond Meat and Lightlife's next-generation meat alternatives next to their animal-based counterparts. When Beyond Meat launched the Beyond Burger to retail in 2016, it was staged next to meat. This is because the brand knew that in order to make an impact on consumer eating habits, it had to reach the majority: hardcore meat-eaters and flexitarians — not vegans, who make up an estimated 1 percent of the U.S. population.
The realistic nature of these products helps, too. That's likely what helped a plant-based brand like Beyond Meat stealthily make its way into the meat aisle. Other brands followed — and it's only just beginning. With food technology accelerating quickly to make further improvements, it will soon be nearly indistinguishable, and these are the types of products that supermarkets will want to sell. Then, all you need to do is put those products in the meat aisle. If what you make is good, fairly priced, and put right in front of the consumer's face, then they will buy it.
Looking past Beyond Meat, putting plant-based products next to "the real thing" worked for another category: plant-based milk. Today, it seems like oat, almond, coconut, cashew, and other dairy-free milk options outnumber the cow's milk. Not too long ago, you could only find plant-based milk in the health food section of the store. Now that dairy-free milk is considered "milk" (and even courts agree, much to the ire of dairy industry lobbyists), it also happens to be the largest category in the plant-based food market. Dairy-free milk sales represent 14 percent of all milk sales. Plant-based milk purchases keep climbing. Meanwhile, cow's milk sales fell flat.
This pattern will repeat itself when we bring more plant-based meat into the meat aisle. Of course, there is already similar pushback from the meat industry, lobbyists, and politicians. But even in these cases, courts are ruling that labels like "plant-based burger" are not confusing to consumers. In a way, it's reassuring that the industry is spending its time trying to change labeling laws: it means they feel threatened by the continued growth of the plant-based food market. As they should.
At a time where it's critical to make more sustainable choices, when will you ask your local store to make the wise choice? If we demand nothing, then nothing will change.