Dear restaurants: you need to step it up.
It's been over a year since Burger King, one of the top ten fast-food chains in the nation, trialed the Impossible Whopper in St. Louis. Analysts revealed that traffic grew 18 percent at this time — and following the national launch last summer, research suggests that overall traffic grew 2 percent, which has been attributed to the beefy meat-alternative.
Although numbers have dropped since the 18 percent boost at the initial launch, the Impossible Whopper continues to drive sales. Realistic, plant-based meat options on fast-food menus don't stop there. Before the fast-food giant introduced the country to the Impossible Whopper, White Castle added meat-free sliders, made by Impossible Foods, to the menu.
When a group goes out to eat, it's normally the vegan who chooses where they dine. But, now it's no longer just the vegan friend ordering the veggie burger. If you put options on the menu that resemble the real thing, people will buy them. Practically everyone is a little bit flexitarian these days.
Currently, only two of the country's top ten fast-food chains offer plant-based meat options. Other restaurants are merely testing the waters. Subway trialed meat-free meatball marinara sandwiches in 600 U.S. and Canadian locations last year. The sandwich, now available on the permanent menu in Canada and the U.K., is still absent from U.S. locations.
McDonald's tested Beyond Meat-made burgers at 52 restaurants in Canada. CEO Chris Kempczinski said in an interview that he "certainly expects" to see plant-based on the menu. Smaller chains, like Qdoba Mexican Eats and Del Taco all offer plant-based options now. Taco Bell has gone its own way, eschewing vegan meat in favor of beans. It's happening in casual dining, too. Hardees, Carl's Jr., Denny's, Cheesecake Factory, and even at Live Nation concert venues. Other restaurants, like Arby's with its questionable carrot made from meat, will likely suffer from their counter-progressive attitude.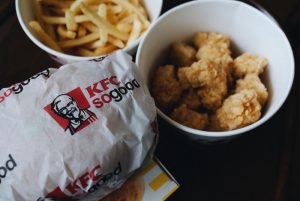 We have made progress, yes. Fifty-eight of the biggest U.S. restaurant chains offered plant-based options in 2019, up from 55 in 2018. Small changes are worth celebrating — but I'm also impatient. What's the hold-up with the other restaurants?
It should be clear that "plant-based" isn't a trend, like "fat-free" food of the 90s (and next-generation plant-based meats are a far cry from the flavorless options of decades past). Although there's no hard data on restaurant sales, we can look at the rapid growth of retail sales as an indicator that plant-based is here to stay.
Over the past two years, grocery sales of direct replacements to animal products — like your vegan chicken and burgers — grew 29 percent in the past two years to $5 billion. The plant-based meat category alone is worth $939 million. COVID-19 and its impact on the meat industry only seems to have solidified consumer interest in plant-based food. Alternative meat sales increased 454 percent — compared to just 100 percent for traditional meat — in the week ending March 21, according to Nielsen data, fueled by meat shortages and perhaps a growing distrust in the meat industry and its lack of regard for the safety of slaughterhouse workers.
Imagine if every restaurant that doesn't have next-generation plant-based meat on the menu (yet) added at least one option. It's the perfect storm of giving consumers what they want.
Research shows that more than half of customers want to make sustainable choices. Countless studies have told us that plant-based proteins like pea, soy, and even algae are better for the planet than inefficient, outdated forms of food like beef, chicken, and pork.
Businesses need to meet them there. Let's get started.