In August 2019, the world's eyes were on the Amazon rainforest as the fires tore through it faster than they had in years with no end to the destruction in sight. Though it has practically disappeared from front-page news, don't think for a second that this means that the devastating fires are over. They have been around for years. And in May, deforestation of the Brazilian Amazon hit an all-time recorded high in the first four months of 2020 — an unbelievable 55 percent increase from the same time last year.
Much of the blame can be placed on Brazil's far-right climate skeptic President Jair Bolsonaro. During his first year, in office, deforestation soared 85 percent to 10,123 square kilometers — an area bigger than Cyprus — of land.
Bolsonaro has whittled away at protections for the world's largest tropical rainforest, which is home not only to 10 percent of the world's biodiversity but also to more than 350 indigenous groups whose people are being murdered in a deadly social climate empowered by the president's track record of anti-indigenous policies and remarks. Murders of indigenous people hit the highest level in two decades last year, many of whom were also environmental activists.
The rainforest loses 200,000 acres of land a day. Breaking it down, that's 150 acres (about the equivalent of 36 football fields' worth of trees) for every minute of the day and 70 million acres per year. We risk losing the forest in 50 years if we continue to sit on our hands. Bolsonaro has a heavy hand in the accelerated destruction of the rainforest, but who is really to blame? Hamburgers — or, more specifically, cheap meat and the world's love for it.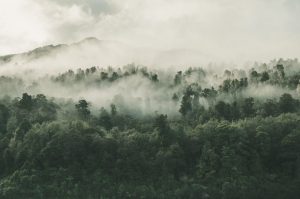 The "hamburger connection" was first made by English conservationist Norman Myers, who wrote in the early 1980s that deforestation "was due to North American demand for artificially cheap beef." However, the unfortunate fact of the matter is that many who agree that tearing down trees and decimating indigenous groups must be stopped are the very same people who order a value menu burger. It's even more mind-boggling when the chain offers a more sustainable plant-based option.
Cattle ranching is the biggest driver of deforestation in every Amazon country, accounting for about 80 percent of its destruction. More than 200 million cattle reside on land that was torn down to make room for feeding the global demand for beef, of which Brazil is the world's biggest exporter. Mainland China and Hong Kong account for 44 percent of those sales.
And the forests aren't being torn down just for cattle — their food is to blame, too. Soy production is a major driver of Amazon deforestation. And before you blame tofu, you should know that 80 percent of the soybeans grown in the Amazon are processed into cattle feed.
Circling back to value menu burgers, fast food chains are culpable in the rainforest's continued destruction. In late 2019, investigations uncovered that Brazilian meat firm Marfig, the world's biggest supplier of burgers, sourced meat from a farm that's guilty of using deforested land. Marfig's customers? McDonald's and Burger King. While these chains have made commitments to "eliminating" deforestation, another problem remains: animal agriculture is still incredibly resource-intensive and an inefficient way of feeding the world. Livestock occupies nearly 80 percent of global agricultural land but provides only 20 percent of the world's supply of calories.
There's a better way to do this: keep the burgers, but take animals out of the equation. Burger King already has a head start on this thanks to the Impossible Burger which has helped boost sales since its launch last summer. But the fact of the matter is that it's not enough just to add an option: in order to move towards a sustainable food chain and to protect one of the world's most biodiverse regions, we need everyone on board. And that may mean that restaurants need to start booting meat items off the menu.
We, consumers, have our role to play in this, too. Before you order that next cheap burger, ask yourself if it's worth the destruction of the rainforest and the people who call it home. Those burgers won't go away until we change our eating habits. So next time you go through the drive-thru, resist the temptation to get the $1 cheeseburger, do the planet a favor, and buy plant-based instead. I doubt you'll miss the 'real' thing. The planet will thank you.