by Björn Witte, CEO of Blue Horizon
The ambition of Blue Horizon's impact framework for planetary and human health also delivers positive impact for animal health – each of which are often interdependent and considered holistically in our investments to accelerate the transition to a new Sustainable Food System. Animal health is at the heart of our mission that started with the first successful seed and early-stage investments in plant-based protein alternatives more than half a decade ago. Since 2016, Blue Horizon has become a global sustainable food investor with more than 60 innovative portfolio companies. We generate impactful investments with a philosophy we call Double Positive — positive, above-market returns for investors and positive, measurable impact for the planet, humans and animals.
Now invested across the full value chain of the future of food, animal health and alternative proteins remain an important part of Blue Horizon's portfolio in a high growth market. Investing at the intersection of biology, agriculture and technology today, Blue Horizon was a first mover in plant-based alternative proteins as an early investor in Impossible Foods, Beyond Meat and others. My personal experience of the health benefits of a plant-based diet to us humans quickly led to a deeper commitment upon my realisation there were few credible protein alternatives. Alongside Blue Horizon's founder's, Roger Lienhard, equal passion for animal and planetary health, personal experience and conviction were the basis for a series of successful early-stage investments that quickly scaled to meet the unrealised consumer demand.
Ever since, Blue Horizon has backed startups, scaleups and established plant-based alternative protein innovators, helping shape the fast-growing market and next generation of fermentation-based and cell-based alternative proteins. As a pioneer of the future of food space, Blue Horizon's impact ambition seeks a quantifiable, positive impact for animal health, providing alternatives to animal-based production systems and promoting a healthier biosphere through biodiversity. Venture capital and private equity is only now waking up to the market opportunity in alternative proteins that delivers positive impact for animal health and outstanding returns for investors.
Research from Blue Horizon and BCG has found there is at least a $290bn market opportunity in alternative proteins even if only 11-16% market share is captured by 2035. In a little more than a decade, based on our recent projections, the share of alternative proteins will grow from just 2% in 2020 to more than 10% of all meat, seafood, eggs and dairy by 2035. In numbers, global consumption of conventional meat, seafood, dairy, and eggs was 574 million metric tons in 2020. While developed countries account for a far larger share on average, and of the subsequent greenhouse gas emissions, that is almost 75 kilograms for every person in the world. While alternative proteins by comparison accounted for just 13 million metric tons (2%), we predict that will multiply seven times over to 97 million metric tons (10%) by 2035.
The market opportunity and capital are there, in addition to compelling concerns for planetary, human and animal health, and investors have slowly taken note. According to the Good Food Institute $5bn was invested in alternative protein startups in 2021. Amid heightened competition and growth in alternative proteins, Blue Horizon's research bolsters our investment strategy, backing companies that have quantifiable impact that can be scaled  sustainably and overcome the biggest hurdles to the reversal of unsustainable demand for conventional proteins – match traditional animal products on taste, texture and price point in order to achieve mass adoption.
Fig 1: Alternative proteins will reach parity with animal-based protein between the early 2020s and 2030s depending on the protein source

Source: Blue Horizon and BCG research
Scenarios for the adoption of alternative proteins depend on factors of taste, texture and price (Fig 1). Even today, for example, the vast majority (77%) of American consumers would eat more plant-based foods if the alternatives tasted better. However, with Blue Horizon's depth of experience in the market since the early days and popularity of plant-based products, we also know that our projected timelines could accelerate even more exponentially if innovative new foods achieve parity sooner. Beyond factors such as consumer demand, every pathway forward for alternative proteins is capital intensive and requires long term, patient capital for the research, development and scale-up of capacity to produce the next generation of sustainable foods. 
Fig 2: If cattle were a country, they would rank third in greenhouse gas emissions
Gigatons of CO2 emissions per year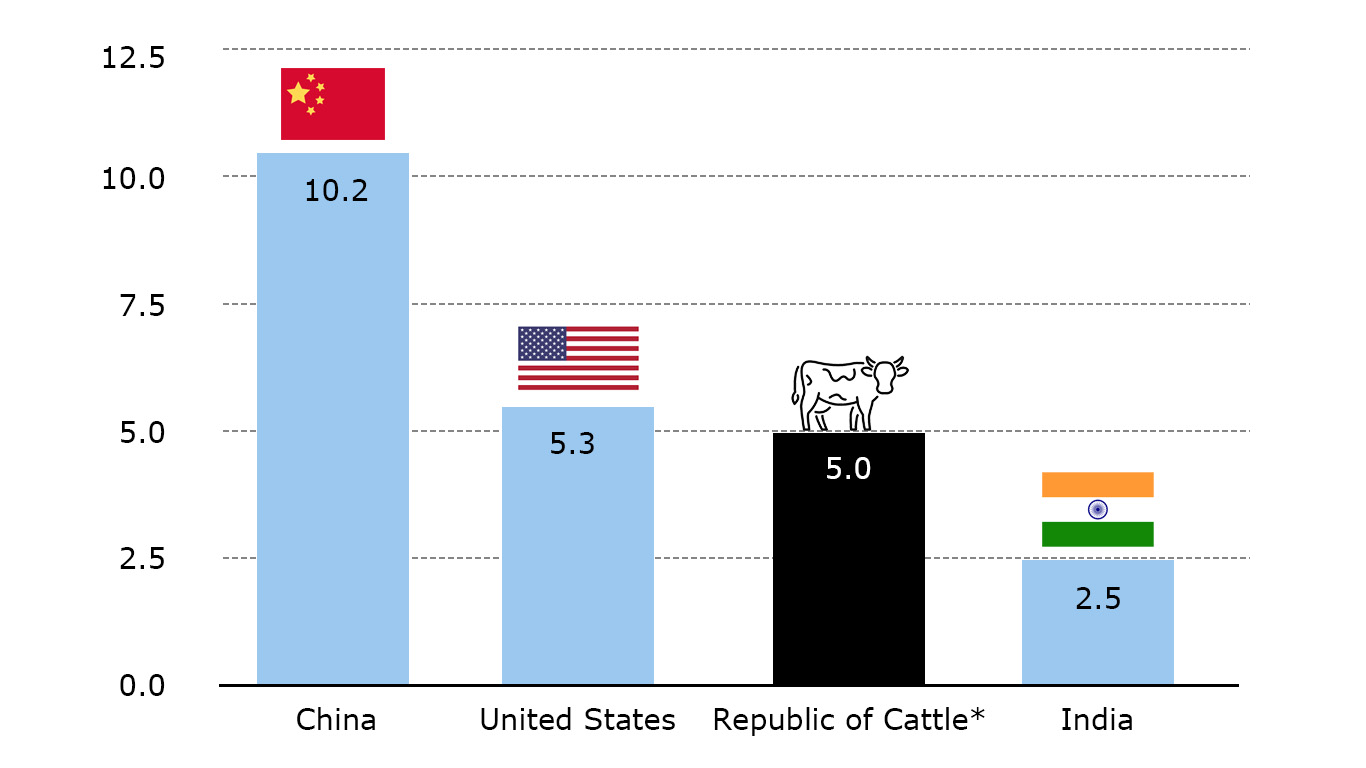 *Cattle figures represents CO2 equivalent  – Source: Gates Notes
While deeply committed to animal health, Blue Horizon approaches impact with a holistic view of what is required to achieve net zero goals. The environmental costs of animal proteins are staggering. Livestock accounts for 14.5% of greenhouse gas emissions and cattle alone are responsible for nearly the equivalent of the United States (Fig 2). The 'Republic of Cattle' is the third largest emitter, most of which is methane gas that the UN's report from the IPCC warns has the most potent greenhouse effects.
The Global Methane Pledge announced at COP26 is a welcome development, raising awareness of the global food system's contribution to climate change, urgency of action, innovation and investment. Everyone can play a positive role and while plant-based diets reduce emissions by half, our research also shows small changes can have an outsized positive impact for planetary and animal health with, for example, one portion of plant-based meat saving the equivalent emissions of a 6-mile drive.
The food system has long been sidelined as a climate issue and underfunded by investors in a space ripe for disruption, growth and sustainability. Today, as part of our mission to accelerate the transition to a new Sustainable Food System, we are optimistic that the Double Positive and opportunity to deliver outstanding returns for our investors and the planet have never been better.